Plot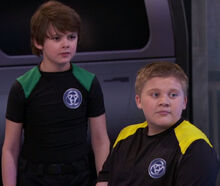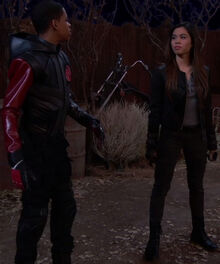 Four students at the Davenport Bionic Academy get into a lot of trouble while training to be bionic heroes, with Leo Dooley as their mentor constantly having to save their butts while teaching them life lessons.
Details
Trent is an antagonist. He somehow got bionics and he constantly attacks the academy.
Leo is constantly having visitors to the island, including Tasha, Rose and Janelle, who is now his girlfriend.
Leo and Sarah, formerly S-1, are no longer arch-enemies. They are very close friends and even consider each other brother and sister. Janelle and Chase sometimes gets jealous of their close relationship.
Spin has a crush on Sarah and constantly tries to fight Chase for her.
Bob still has a creepy obsession with Bree.
Christina is in love with Spin.
Spin, Bob and Christina are Intermediate Level and wear green suits. Sarah is Expert Level and wears a red suit. Leo is an Expert during the premiere but soon becomes a mentor.
Notes
Instead of a spin-off, the current show may just be continued like this, starting with Season 5 and ending with Season 6 or 7.
Seasons
Season 2
Season 3
Season 4
Season 5
Season 6
Season 7 (possibly)